Market and business conditions have impacted FHLBank performance
Deposit levels at FHLBank members remain strong as a continued result of COVID-19 government actions
Low Net Interest Margin (NIM) for FDIC-insured depositories
Low interest rate environment
Advance levels continued to decline

Remained focused on operational resilience and risk management
Serving members
Planning for safe, incremental return to office

Market and Business Conditions
Elevated levels of deposits
Total deposits at all FDIC-insured banks rose from $17.1 trillion to $19.2 trillion from Q3 2020 to Q3 2021– a 12.1% increase
Total deposits at all federally-insured credit unions rose $219.9 billion, or 14.4%, since Q3 2020 to $1.75 trillion in the third quarter of 2021
Modest decline in the number of FDIC-insured banks and federally insured credit unions
Modest growth in loan demand
Total loans and leases at all FDIC-insured banks increased slightly by .1% year-over-year Q3 2020 to Q2 2021 – from $10.91 trillion to $10.92 trillion
Quarterly loan balances continued to grow, rising 2.5% from the previous quarter
Total loans at all federally-insured credit unions rose 5.2% year-over-year Q3 2020 to Q3 2021 – from $1.16 trillion to $1.22 trillion
Consumer and commercial loan demand remained weak in the third quarter of 2021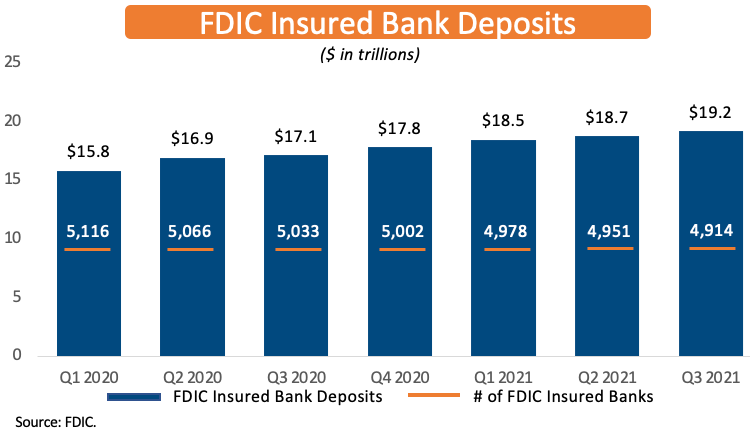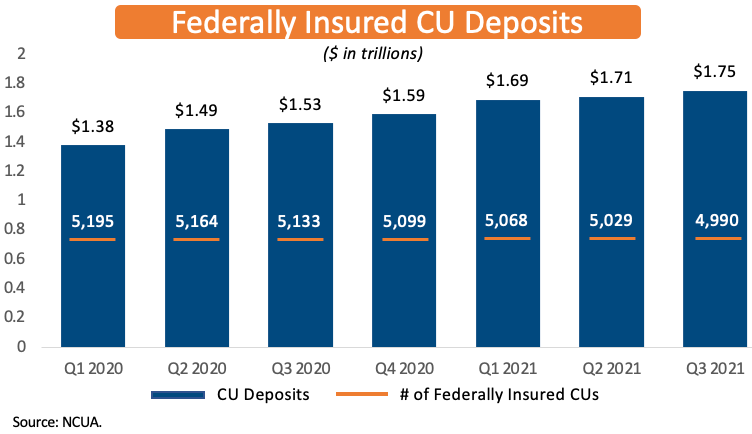 Modest Increase in Net Interest Margin at FDIC Banks
The average NIM at all FDIC insured banks improved to 2.56% in the third quarter, up 6 basis points from the record low in the second quarter but down 12 basis points overall from one year earlier
The FDIC notes that Quarterly NIM expansion was accompanied by a $5.2 billion (4% ) increase in net interest income from the prior quarter. The improvement was driven by a $4.6 billion increase in interest income and a $573 million decline in interest expense
From December 31, 2019, to September 30, 2021, the effective rate on Federal Funds fell from 1.55% to 0.08%
Rate was consistent from Q2 to Q3 2021
Over the same period the 1-year Constant Maturity Treasury (CMT) rates fell from 1.59% to 0.09%
CMT rates are the interpolated yields based on the yields of the recently auctioned treasury bills, notes, and bonds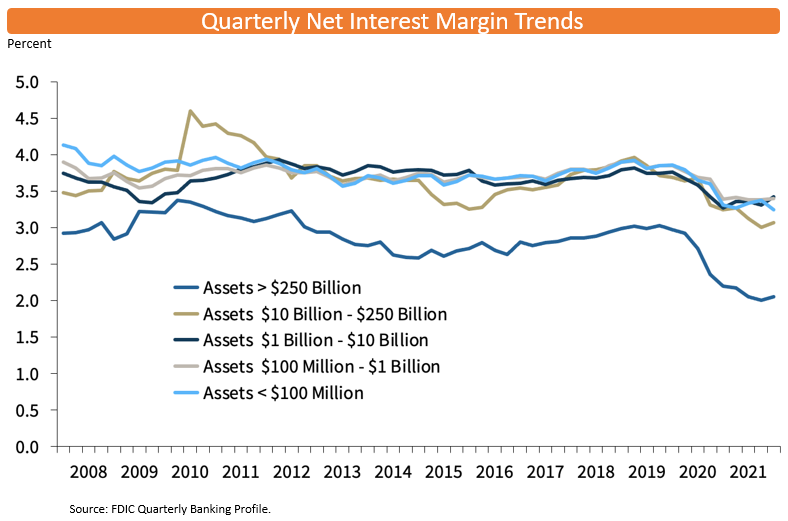 Financial Highlights – FHLBanks' Combined Statement of Income – Q3 Comparison (Unaudited)
| ($ in millions) | Three months ended 9/30 | blank | Over / (Under) | blank |
| --- | --- | --- | --- | --- |
| | 2021 | 2020 | Amount | % |
| Net interest income | $ 894 | $ 1,167 | $ (273) | -23% |
| Provision (benefit) for credit losses | (6) | 1 | (7) | -700 |
| Other non-interest income (loss) | (81) | 108 | (189) | -175 |
| Non-interest expense | 344 | 356 | (12) | -3 |
| Net income before assessment | 475 | 918 | (443) | -48 |
| AHP assessments | 48 | 93 | (45) | -48 |
| Net income | 427 | 825 | (398) | -48 |
| Net interest margin (bps) | 49 | 50 | 1 | -2 |
Financial Highlights – FHLBanks' Combined Statement of Income – YTD Comparison (Unaudited)
| ($ in millions) | Nine months ended 9/30 | blank | Over / (Under) | blank |
| --- | --- | --- | --- | --- |
| | 2021 | 2020 | Amount | % |
| Net interest income | $2,852 | $3,330 | $(478) | -14% |
| Provision (benefit) for credit losses | (16) | 52 | (68) | -131 |
| Other non-interest income (loss) | (326) | 221 | (547) | -248 |
| Non-interest expense | 1,055 | 1,123 | (68) | -6 |
| Net income before assessment | 1,487 | 2,376 | (889) | -37 |
| AHP assessments | 151 | 242 | (91) | -38 |
| Net income | 1,336 | 2,134 | (798) | -37 |
| Net interest margin (bps) | 50 | 42 | 8 | 19 |
Financial Highlights – FHLBanks' Combined Balance Sheet (Unaudited)
| ($ in millions) | As of | blank | Over / (Under) | blank |
| --- | --- | --- | --- | --- |
| | 9/30/2021 | 12/31/20 | Amount | % |
| Total assets | $ 712,089 | $ 820,740 | $ (108,651) | -13% |
| Total advances | 350,041 | 422,639 | (72,598) | -17 |
| Total investment securities | 187,374 | 220,691 | (33,317) | -15 |
| Total consolidated obligations | 641,838 | 748,518 | (106,680) | -14 |
| Total capital stock | 24,814 | 27,398 | (2,584) | -9 |
| Total retained earnings | 22,568 | 21,998 | 570 | 3 |
FHLBanks' Combined Net Income Trends (Unaudited)
FHLBanks reported combined net income of $427 million for third quarter of 2021 compared with $825 million for third quarter of 2020 – a decline of approximately 48%, primarily as a result of the low interest rate environment resulting from the COVID-19 pandemic and the reduced demand for advances due to elevated liquidity in the financial markets
Net income for the nine months ended September 30, 2021 declined 37% compared to the nine months ended September 30, 2020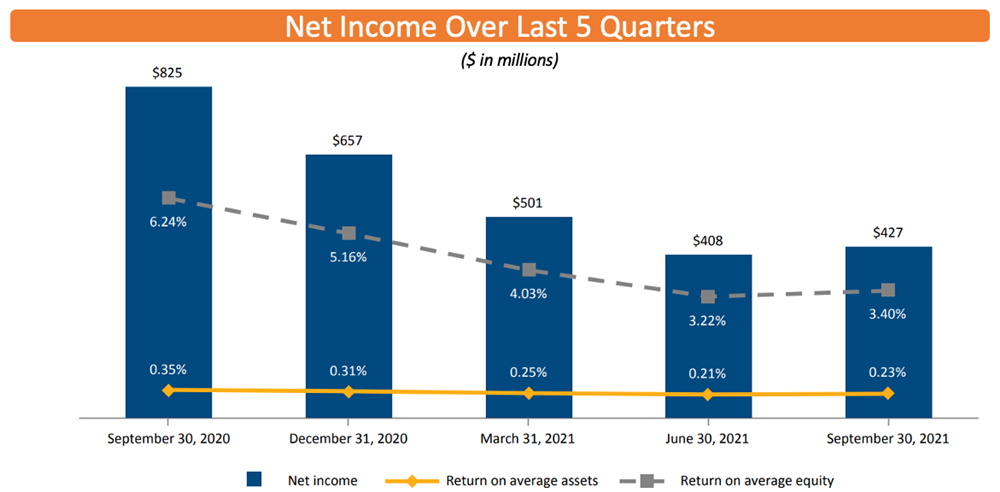 FHLBanks' Combined Balance Sheet Trends (Unaudited)
FHLBanks' Combined Balance Sheets have seen an aggregate contraction over the last 5 quarters since September 30, 2020 to September 30, 2021
The contraction is primarily due to advance volumes
Capital levels remained strong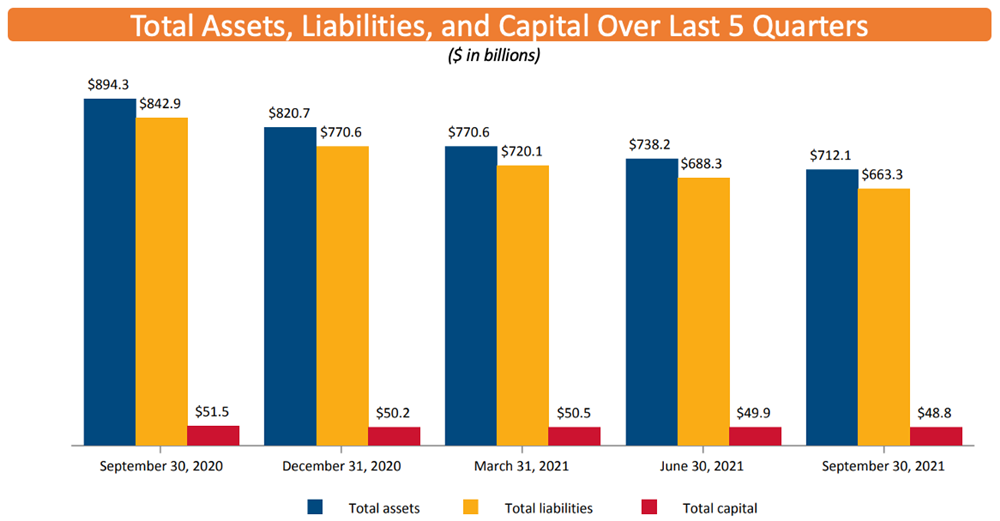 FHLBanks' Combined Advances (Unaudited)
FHLBanks' Combined advances were $350 billion at September 30, 2021 compared with $479 billion at September 30, 2020, a decline of 27%
FHLBanks' Combined Advances declined by 17% from $422.6 billion at December 31, 2020
96% of FHLBank advances were to members; the remaining advances were to non-members and housing associates
Insurance member usage has grown 44% since Q3 2015 and continues to be a stable borrowing base of the FHLBanks. At September 30, 2021, there were $114 billion of advances outstanding across 221 insurance members
Historical FHLBanks' Combined Advances Trends (Unaudited)
FHLBanks' Combined Capital and Regulatory Requirements (Unaudited)
Total capital at 9/30/2021 was $48.8 billion or 6.9% of total System assets of $712.1 billion
Regulatory Capital Ratio for the System (4% minimum) increased to 6.71% as of 9/30/21 from 6.11% as of 12/31/20
Combined Leverage Capital Ratio for the System (5% minimum) increased to 10.0% as of 9/30/21 from 9.1% as of 12/31/20
Credit quality of FHLBank assets remained strong
| ($ in millions) | As of | blank | blank |
| --- | --- | --- | --- |
| | 9/30/2021 | 12/31/20 | Over / (Under) |
| Capital stock | $ 24,814 | $ 27,398 | $ (2,584) |
| Retained earnings: | | | |
| Unrestricted | 16,950 | 16,564 | 386 |
| Restricted | 5,618 | 5,434 | 184 |
| Total retained earnings | 22,568 | 21,998 | 570 |
| Combined regulatory capital-to-assets ratios | 6.71% | 6.11% | 0.60% |
FHLBanks' Affordable Housing Programs (Unaudited)
The FHLBanks' Affordable Housing Programs ("AHP") help members provide subsidized and other low-cost funding, as well as grants, to create affordable rental and homeownership opportunities through a 10% assessment on income subject to AHP assessment.
The FHLBanks' Combined AHP assessments declined by 48% from third quarter of 2020 assessments of $93 million as a consequence of lower earnings
The FHLBanks' Combined AHP assessments in Q3 2021 increased modestly as a result of slightly elevated net income compared to the previous quarter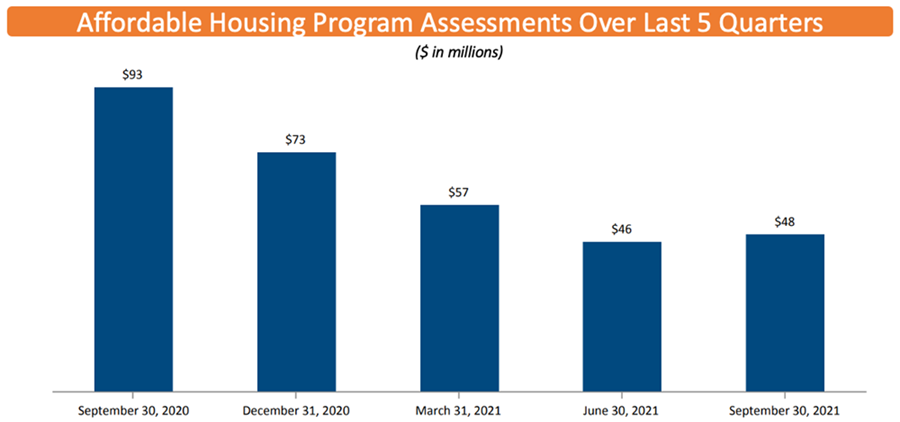 FHLBanks' Combined Letters of Credit (Unaudited)
The notional amount of outstanding FHLBank Standby Letters of Credit (LOC) are near System highs, allowing members to maintain deposits from state and local governments as well as other public entities and support housing development and other initiatives
The notional amount of LOCs outstanding at September 30, 2021 was $152.44 billion utilized by over 1,400 members and housing associates
This represented a decline of 7% compared to the notional amount of LOCs outstanding at December 31, 2020 of $164.4 billion
The majority of LOCs were used for Public Unit Deposits as pictured in the chart below

Disclaimer: Data presented in this section may not comport with CFR data and should be viewed independently
FHLBanks' Historical Letters of Credit Trends (Unaudited)
FHLBanks' Combined Acquired Member Assets (Unaudited)
The FHLBanks, through their four separate Acquired Member Asset (AMA) programs, acquire mortgage assets from their members–providing them valuable liquidity. Through these programs the FHLBanks share credit risk with their members and housing associates, and the FHLBanks manage the interest rate and prepayment risks
In 2020, the FHLBanks purchased nearly $32 billion of mortgage assets across more than 150,000 loans from more than 1,000 Participating Financial Institutions [PFIs]. These PFIs are FHLBank members or housing associate that have been approved to participate in the AMA programs. As of Q3 2021, there were 1,018 PFIs, and of those that sold during the quarter, over 70% were CFIs, i.e., bank members with assets under $1.239 billion.
For Q3 2021 the FHLBanks purchased more than $5.1 billion of mortgage assets compared to $7.8 billion for Q3 2020, representing a 34.6% decline
During each respective quarter, the majority of the mortgage purchases were held on the balance sheets of the FHLBanks
During Q3 2021, the FHLBanks supported close to 3,400 first-time homebuyers through their loan acquisitions; and acquired loans in every US state and Puerto Rico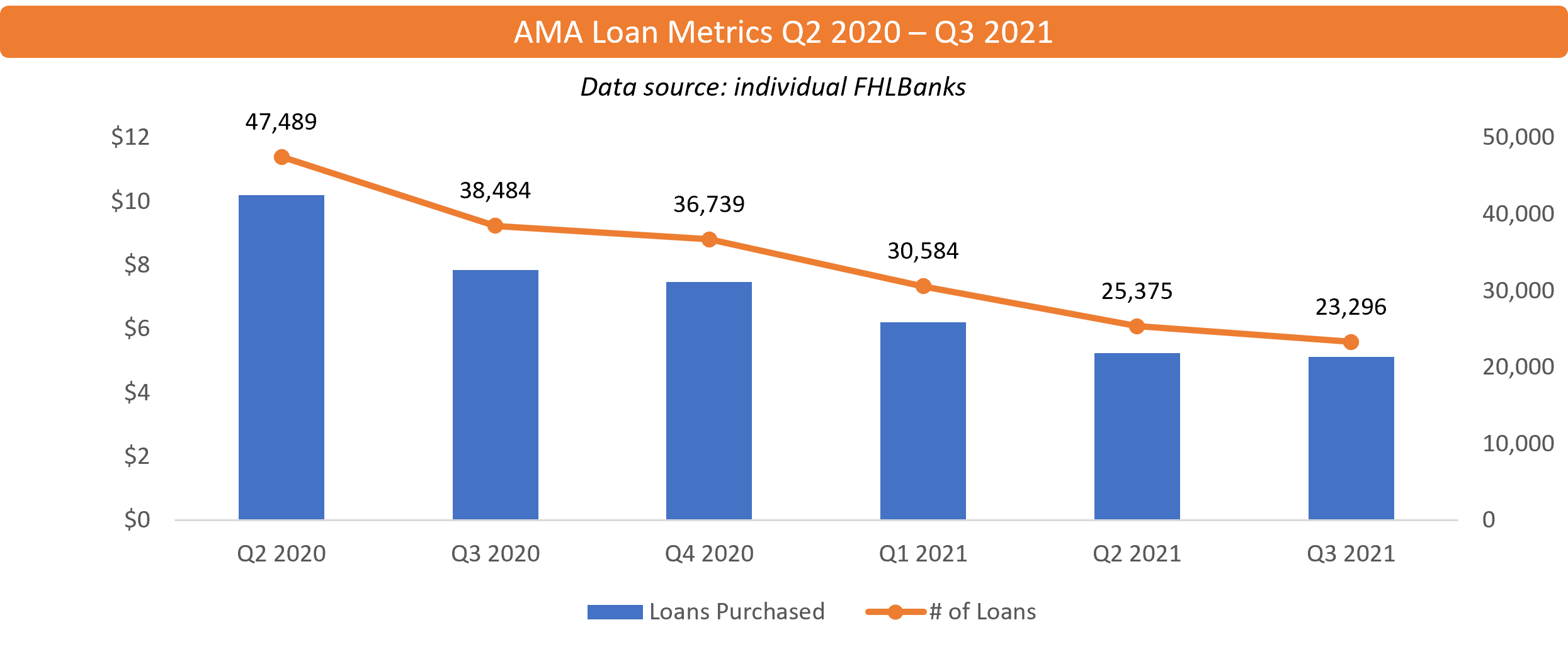 Disclaimer: Data presented in this section may not comport with CFR data and should be viewed independently